Amazon Seller Account Suspension Reinstatement
Regain control of your business with our Amazon seller account reinstatement services. Your Amazon business is too important to leave suspended. Let us help you get back in the game!
Don't Let Amazon Suspension Hurt


Your Business
An account suspension can seriously impact your business. Amazon account suspensions could result in massive loss of:
It also means you're not only losing sales but the trust of your customers, causing damage to your brand reputation! It can be challenging to regain the trust of Amazon, and other marketplaces may be hesitant to work with a seller who has a history of account suspension.

Don't let an Amazon suspension hurt your business! Contact our team of experts to help you get your suspended Amazon seller account reinstated and back to selling on Amazon.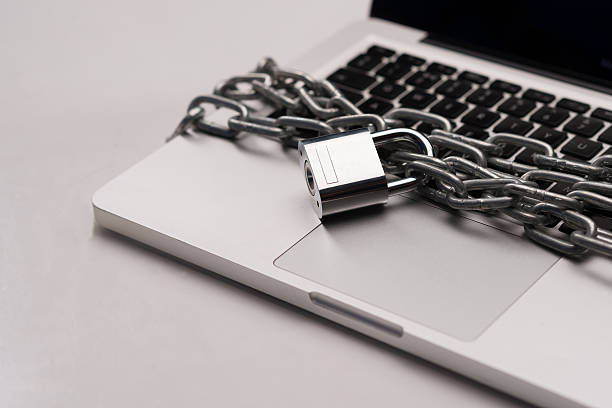 How To Get an Amazon Account Reinstated


After a Suspension
Reactivating your Amazon seller account doesn't have to be a time-consuming and stressful process. Let SellerAppeal handle it with our reliable, efficient service so you can focus on what matters most.
Get your account back in 3 simple steps.

We gather all necessary information

We'll then assign an experienced expert for a case study and a free quote.

Once your appeal is customized, we'll provide instructions to send to Amazon for reinstatement.

We gather all necessary information.

We'll then assign an experienced expert for a case study and a free quote.

Once your appeal is customized, we'll provide instructions to send to Amazon for reinstatement.
Reinstate Suspended Amazon Account Quickly with SellerAppeal by
Or Shamosh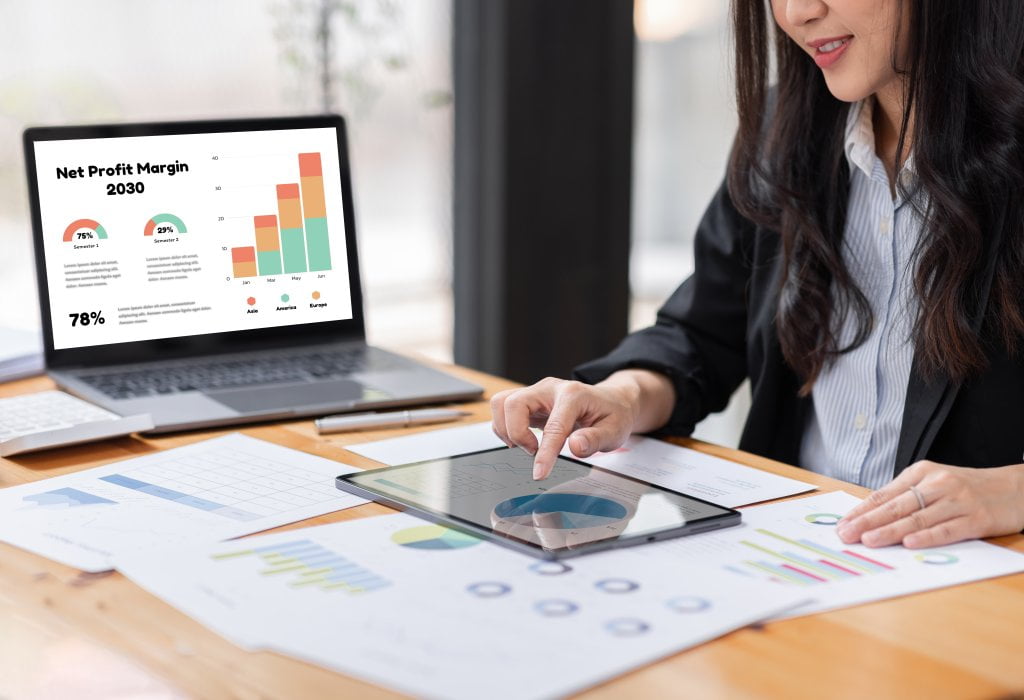 At SellerAppeal, we understand that each business has unique needs and goals. That's why when you collaborate with us, we provide custom solutions designed just for you.

Don't let an account suspension get in the way of achieving success. Reach out to us today and let our experts help you reinstate your Amazon seller account with minimal hassle.
Reinstate Your Amazon Seller Account Back and Keep Your Business

Moving Forward
We understand how important your business is to you. That's why we're here to provide expert assistance and ensure your operations run seamlessly, free from the threat of suspensions. Let us help you get back on track and stay ahead of the game.
Different Types of Seller Account Suspension on

Amazon?
We deal with all types of account suspensions, including the following:
Suspension

Deactivation

Termination
If you've received an account suspension or deactivation notification from Amazon, it's important to act quickly to investigate and file an appeal immediately. Don't wait too long and put your business at risk.
Contact us today for expert assistance navigating the appeals process and reinstating your Amazon seller account.
Overturn Seller Account Suspension Expert Help from


SellerAppeal by Or Shamosh
Our Amazon seller account reinstatement services are tailored to address the following common reasons for Amazon Seller account suspension:
If you're an FBM seller, you must maintain high performance, regardless of your experience level, by meeting the performance target score set by Amazon, which includes: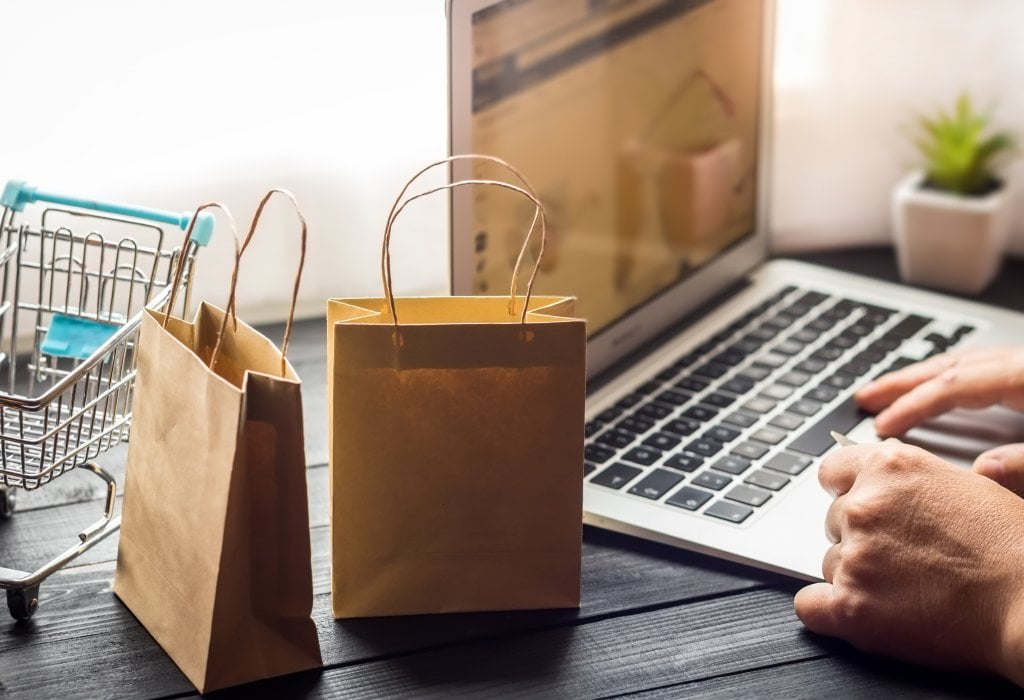 Amazon does not permit more than one account to sell the same type of items without prior permission; failure to abide could lead to suspending your account.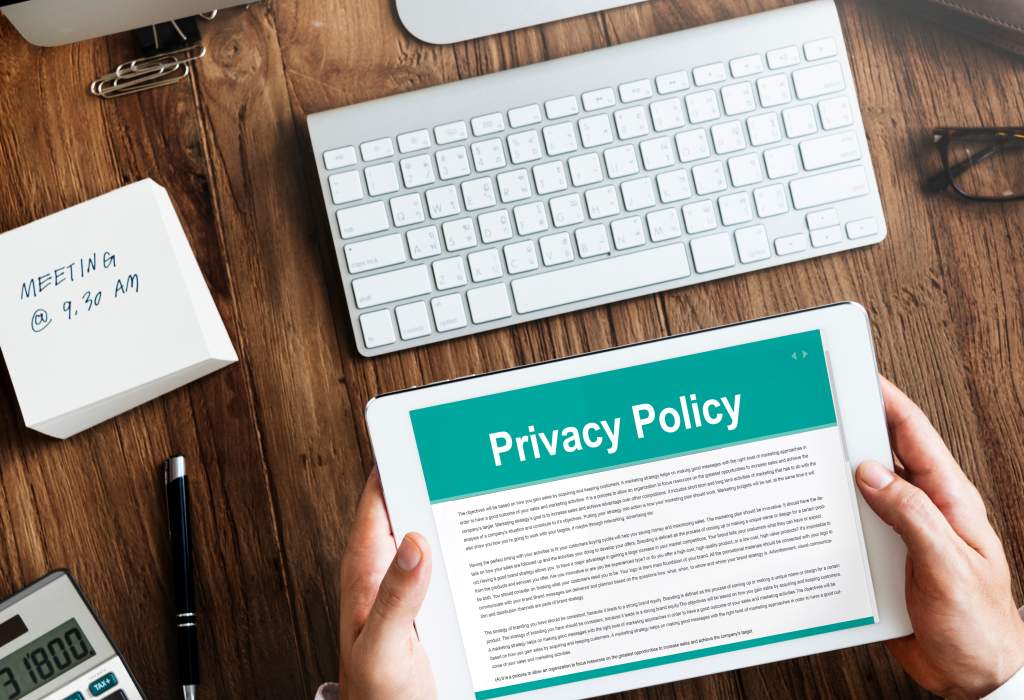 If a seller is found to be abusing variations and listing products as separate items, their account can be suspended. SellerAppeal can help the seller understand the rules for variations and get their account reinstated.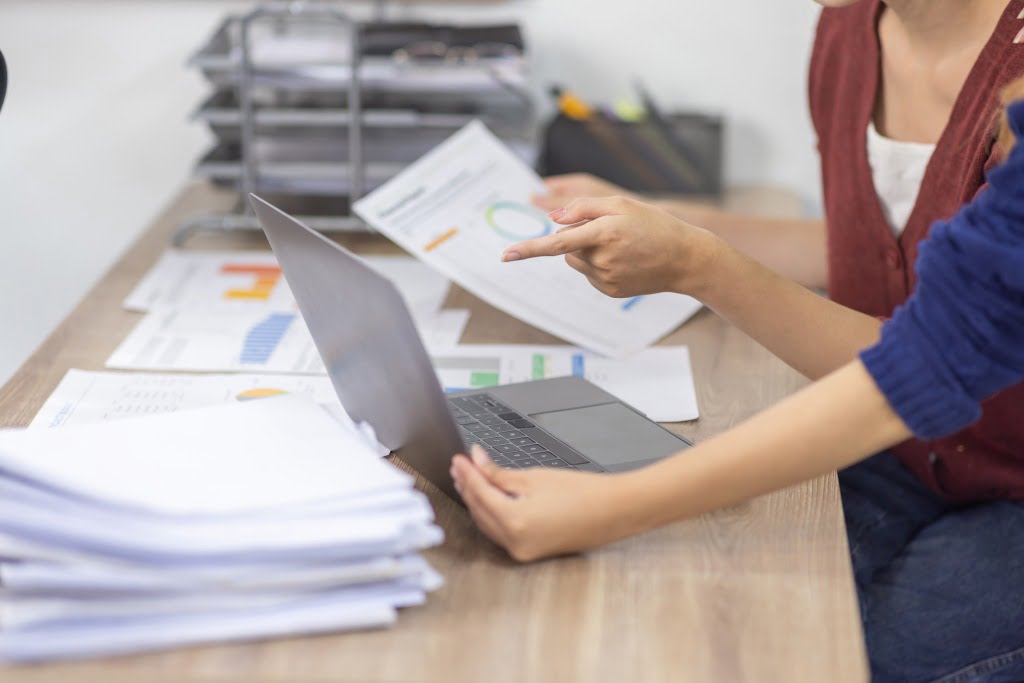 We can help reinstate accounts suspended due to issues related to the overall health of the Amazon seller account, such as performance metrics, policy violations, or customer complaints.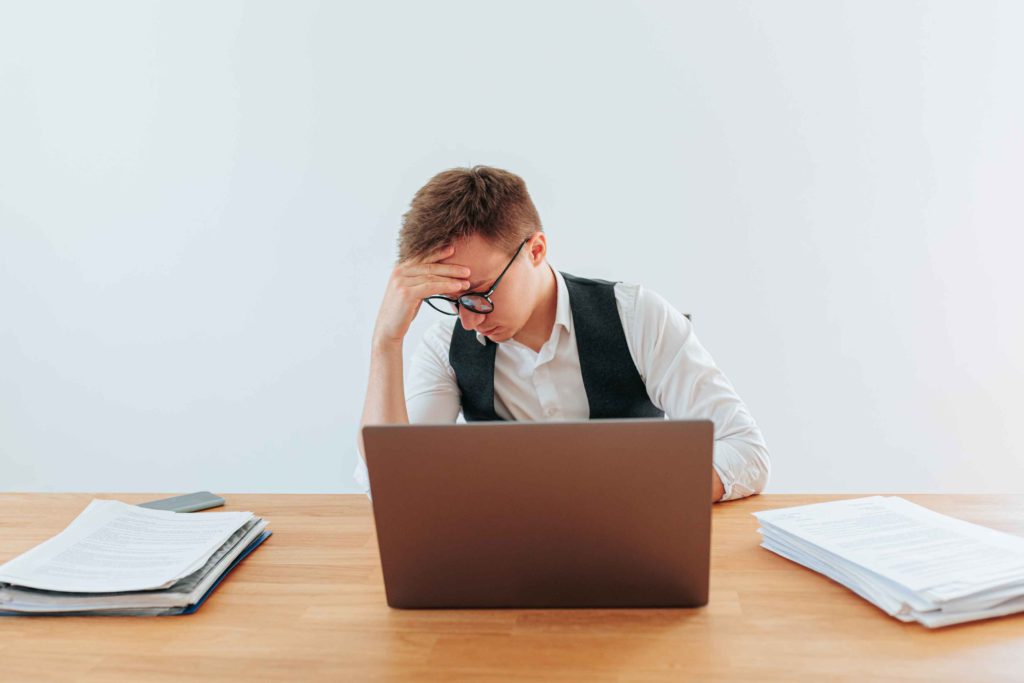 We'll help you reinstate your account suspended due to violations of Amazon's Code of Conduct policies, including issues related to product safety, authenticity, and listing quality.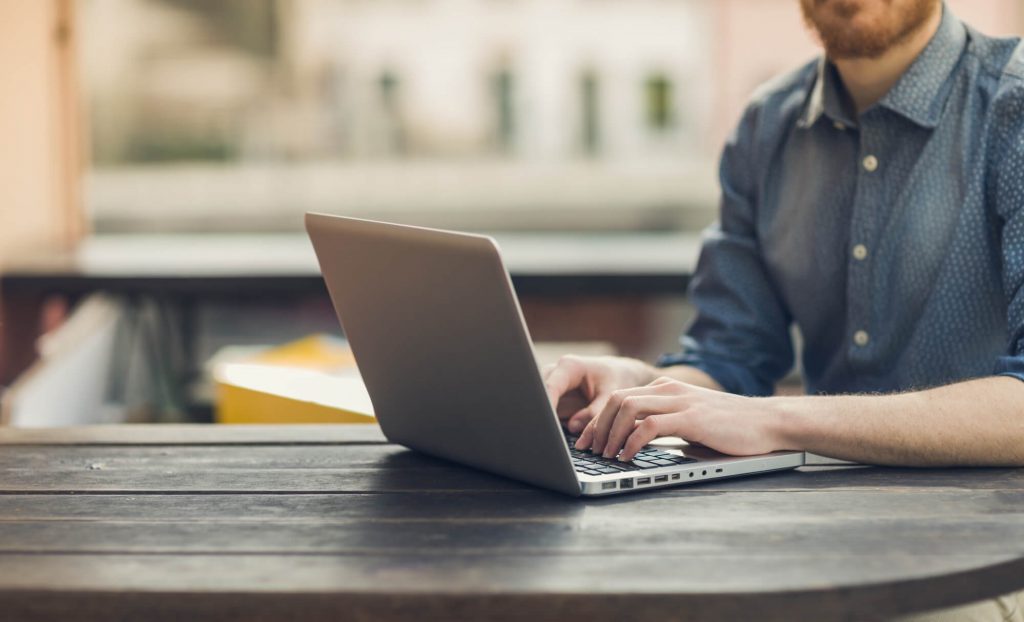 This refers to issues related to fake or incentivized reviews, review solicitation, or any other form of manipulation of customer reviews on Amazon.
No matter what type of Amazon seller account suspension you face, Seller Appeal is here to help. Contact us today to start getting your account reinstated and your business back on track.
Keep a Good Standing for Your Amazon


Seller Account
We'd love to see your business performing. Here are our top tips for keeping your Amazon Seller Account in good standing:
Adhere to Amazon's Policies
Strictly adhering to Amazon's policies and regulations is fundamental if you wish to avoid suspension of your account.
Prioritize Performance Metrics
Amazon has performance metrics you must meet, such as;
Regularly Monitor Your Listings
Keep a close eye on your listings and ensure they comply with Amazon's policies.
We understand the frustration of losing your Amazon Seller Account to suspension. We are here to help get your account back on track so you can continue selling confidently!
Regain Control of Your Amazon Seller Account with Our Expert Reinstatement

Services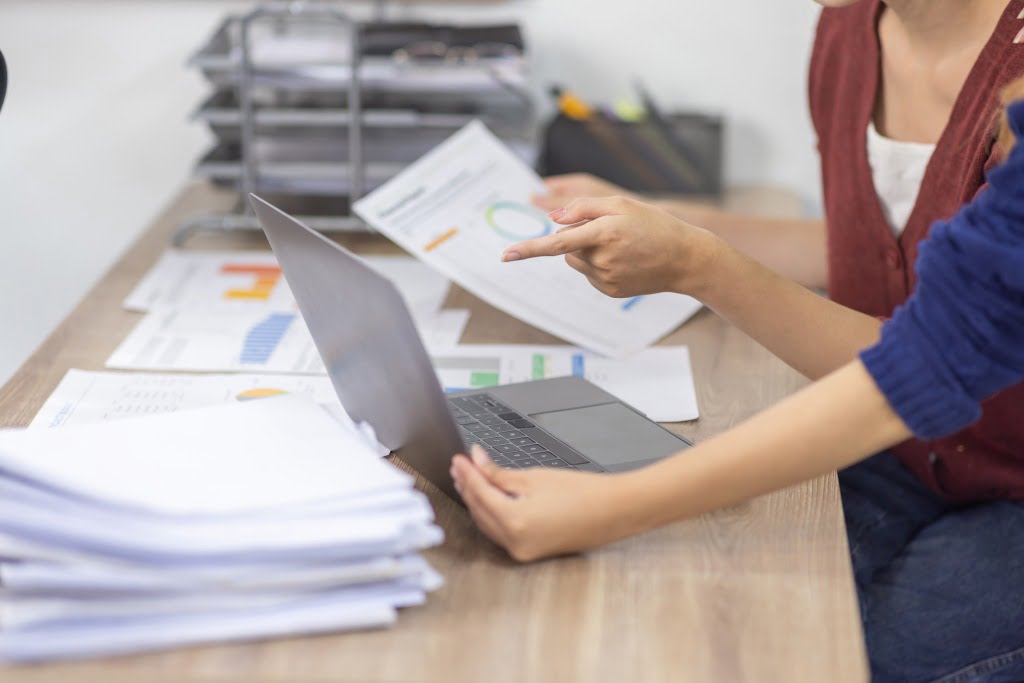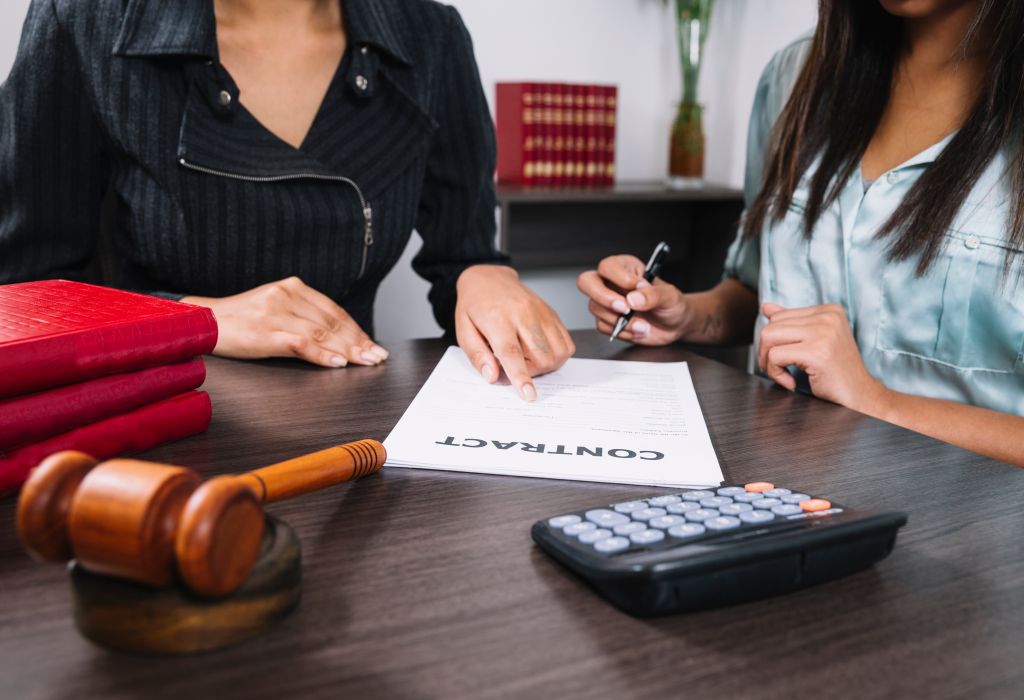 With a 98% success rate in reinstate suspended Amazon accounts. Our experienced team will work closely with you to identify the root causes of the suspension and develop a comprehensive Plan of Action (PoA) to resolve them. Increase your chances of successful reinstatement—contact us today!
Why Choose SellerAppeal to Reinstate Your Suspended Seller Account?
Creating a compelling appeal that meets Amazon's requirements can be a difficult and time-consuming task, especially if you're not familiar with Amazon's policies and procedures. That's why we are here to help.
Hear From Our

Satisfied Clients
Here are some client testimonials and success stories from our previous clients: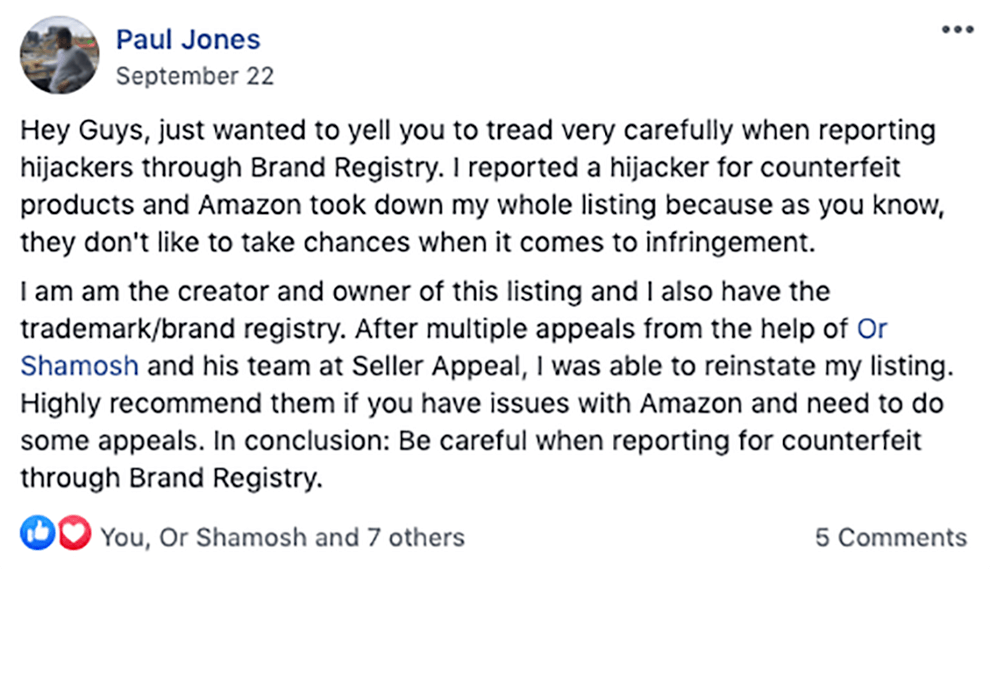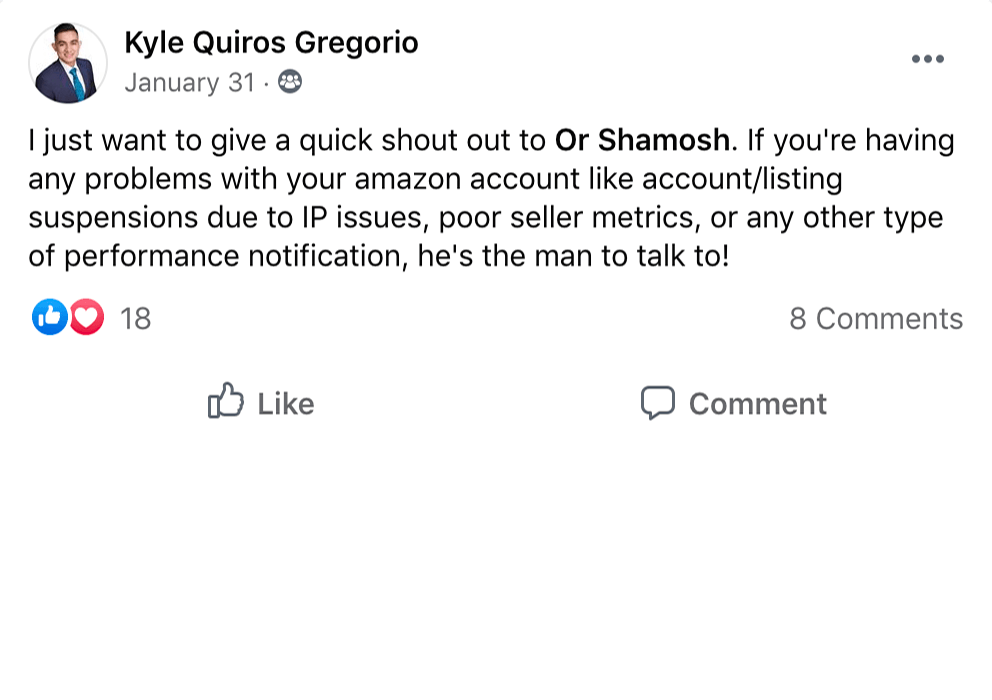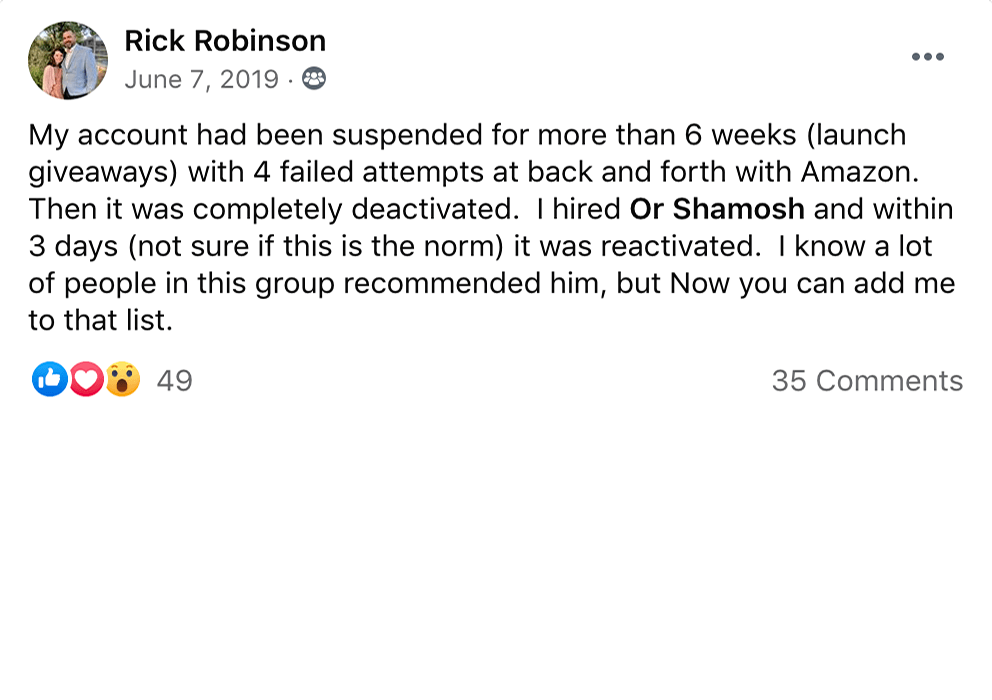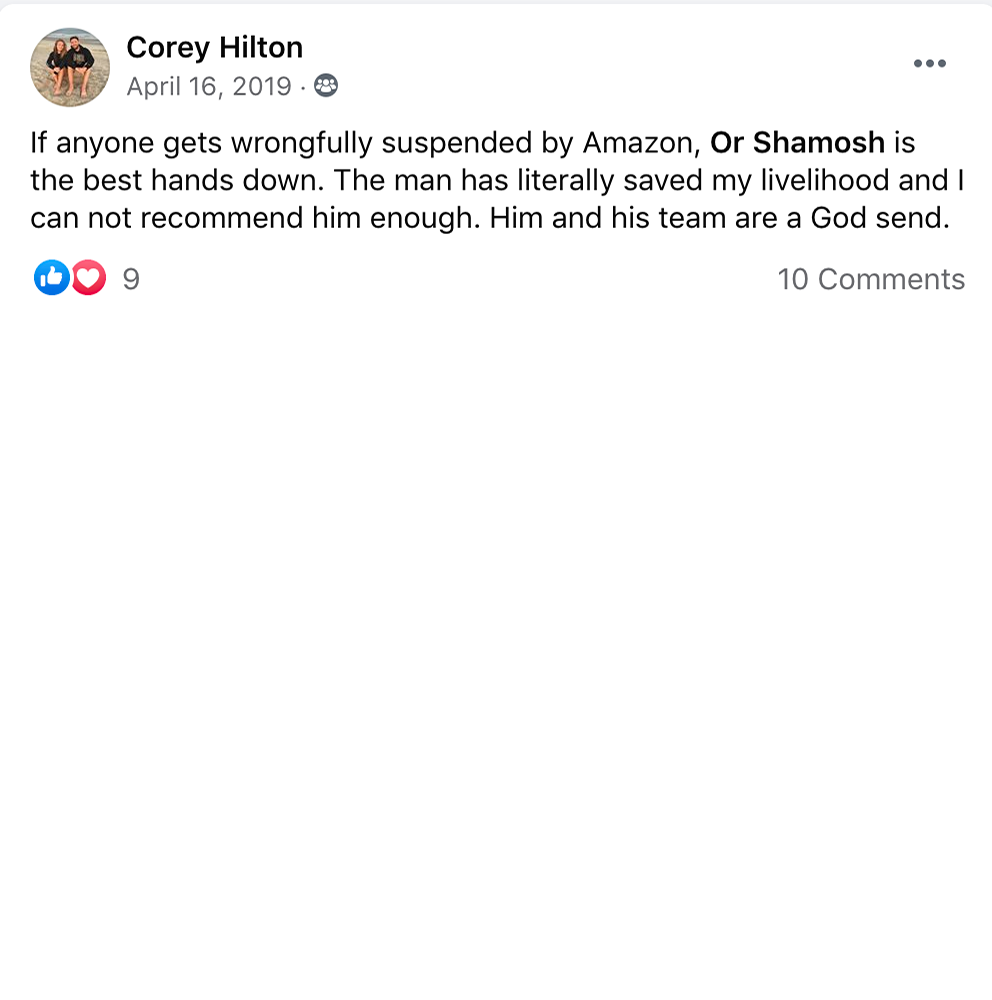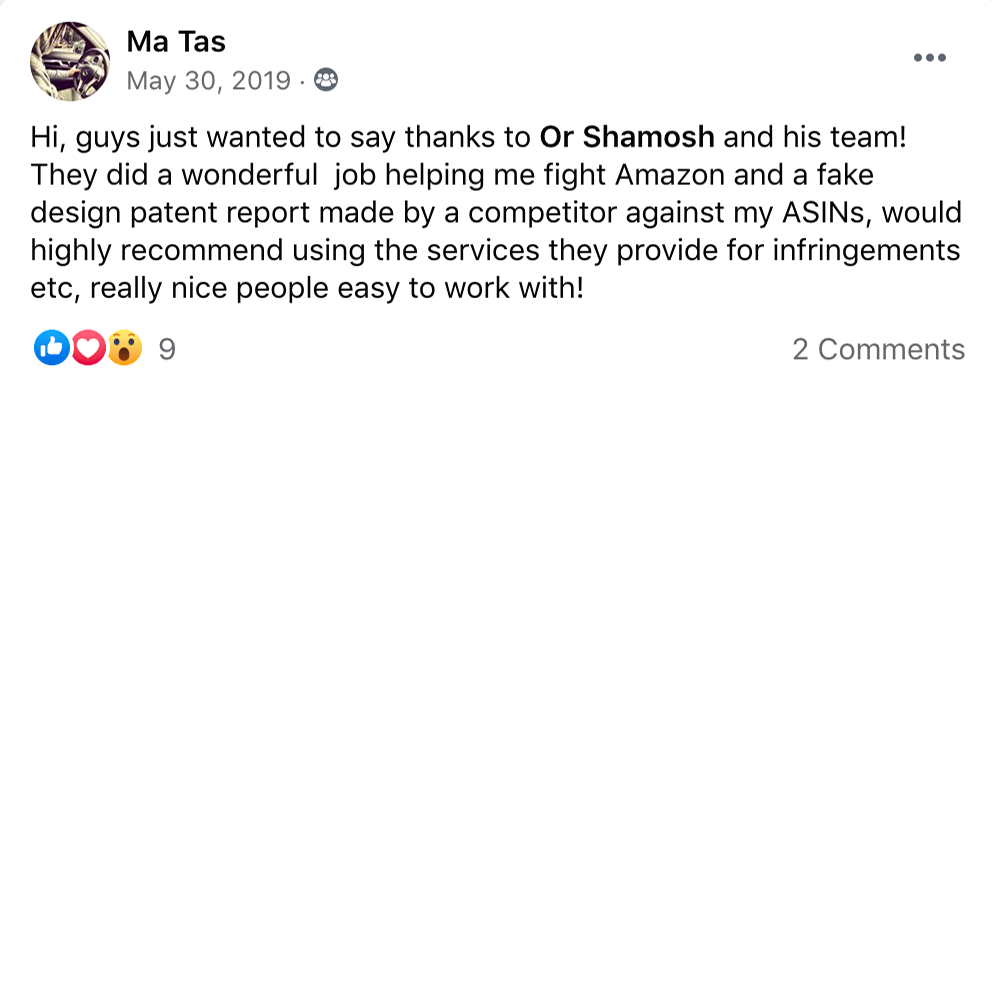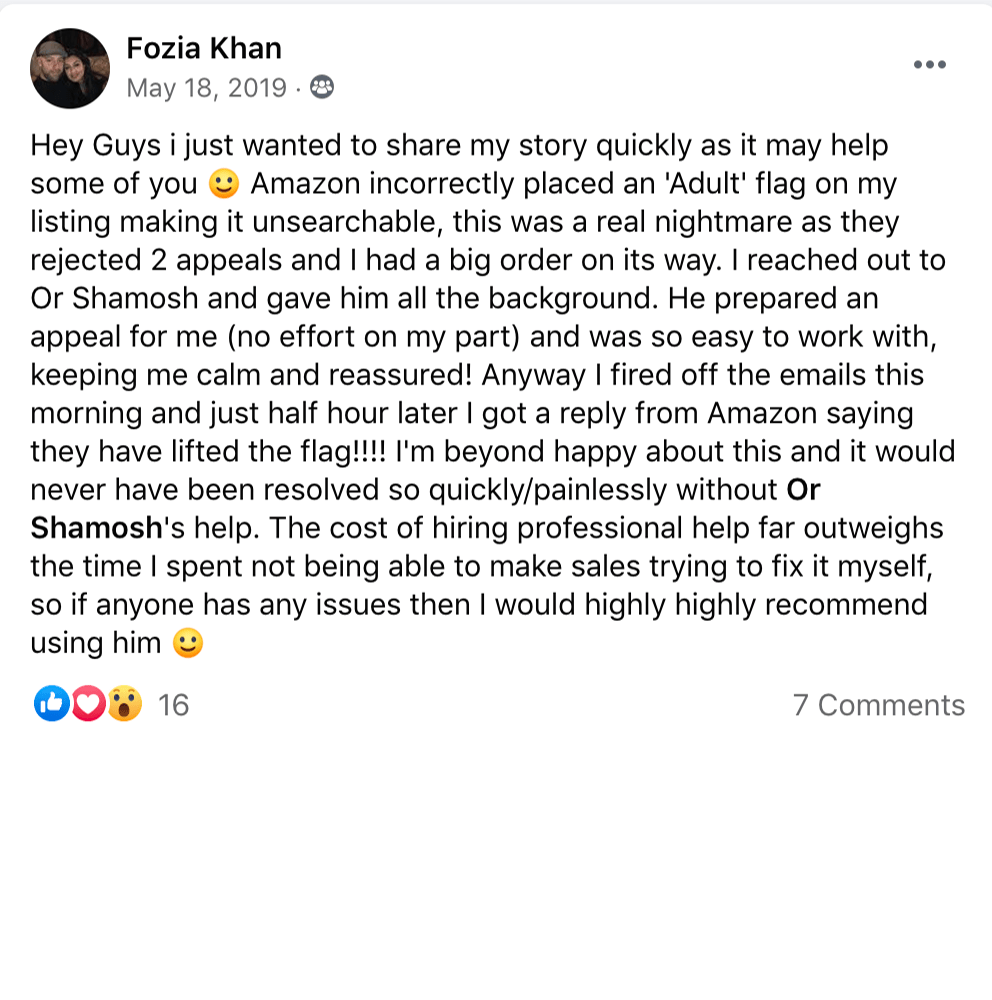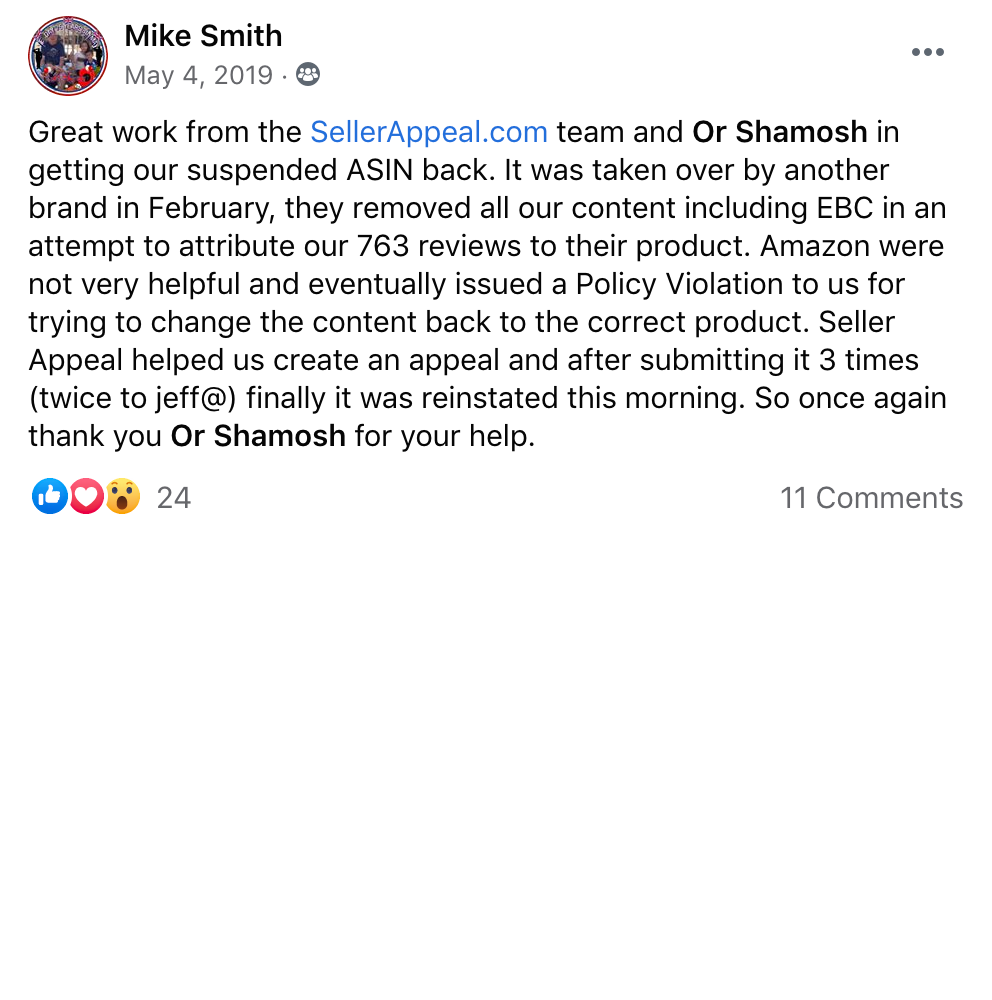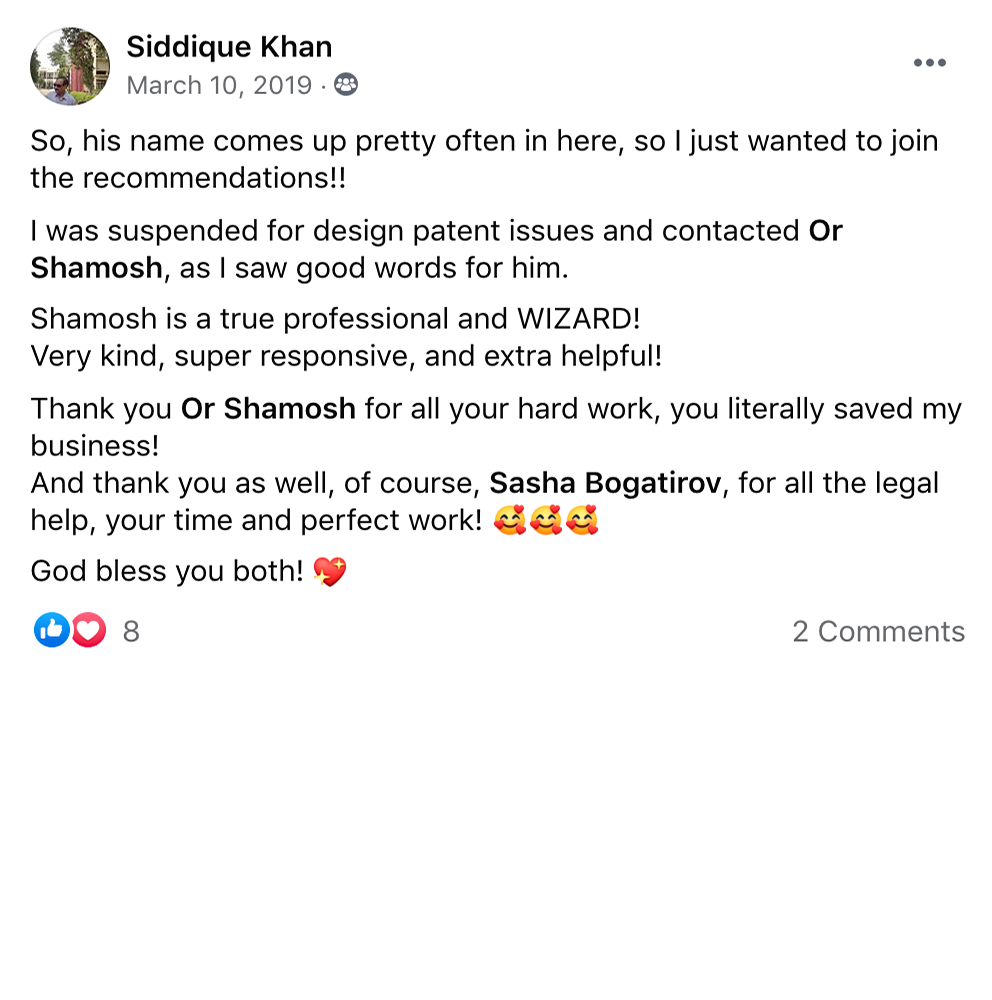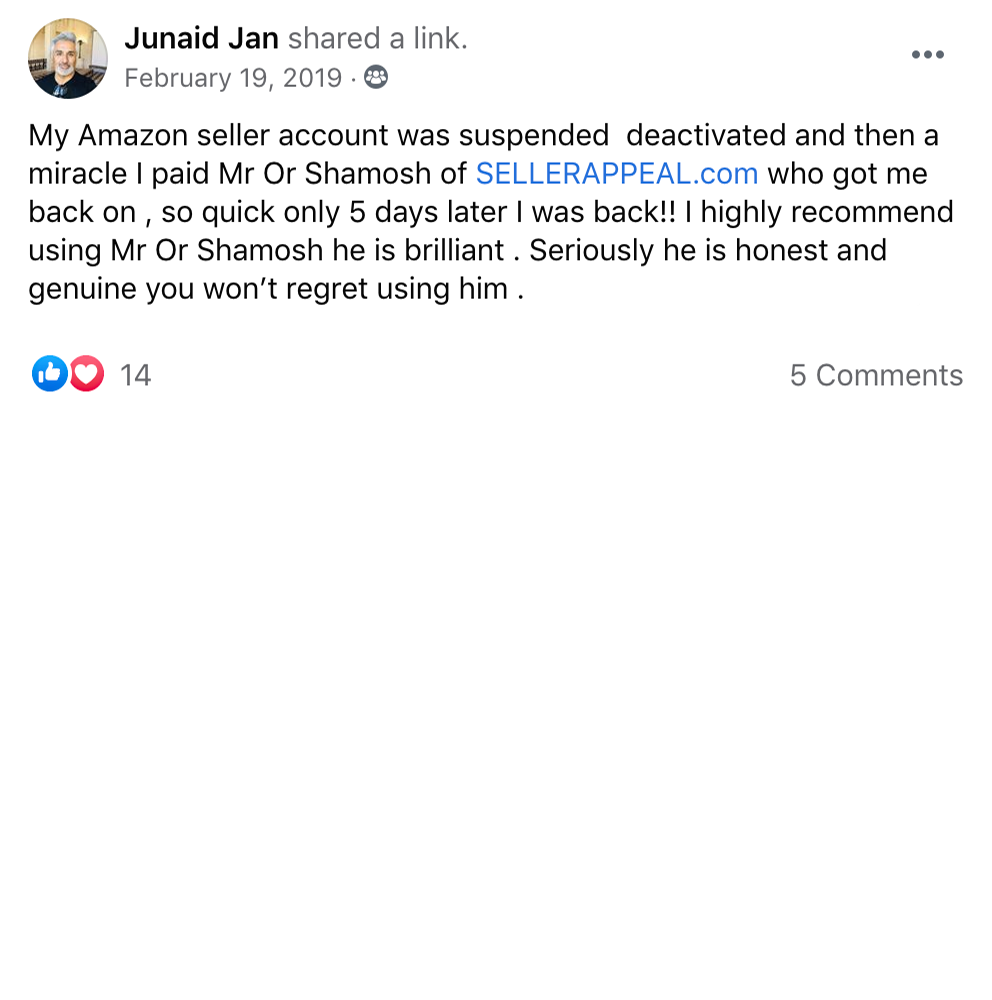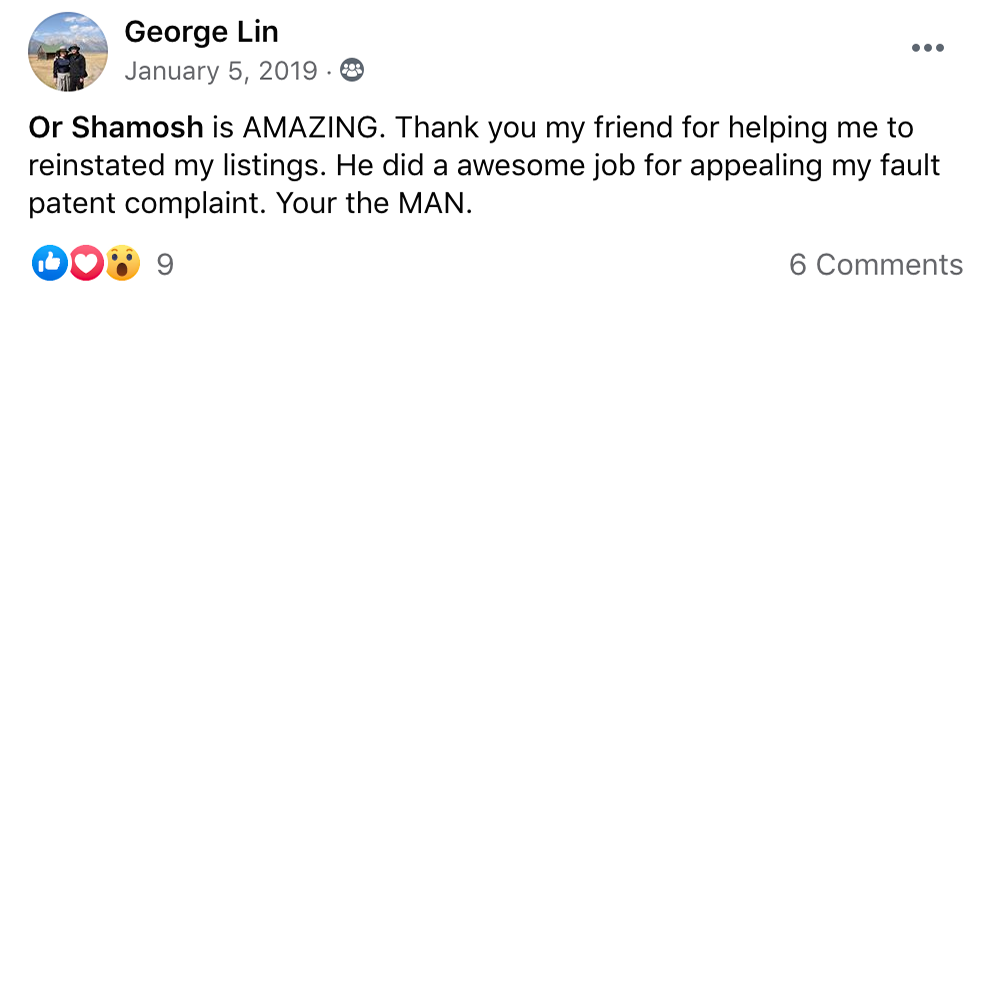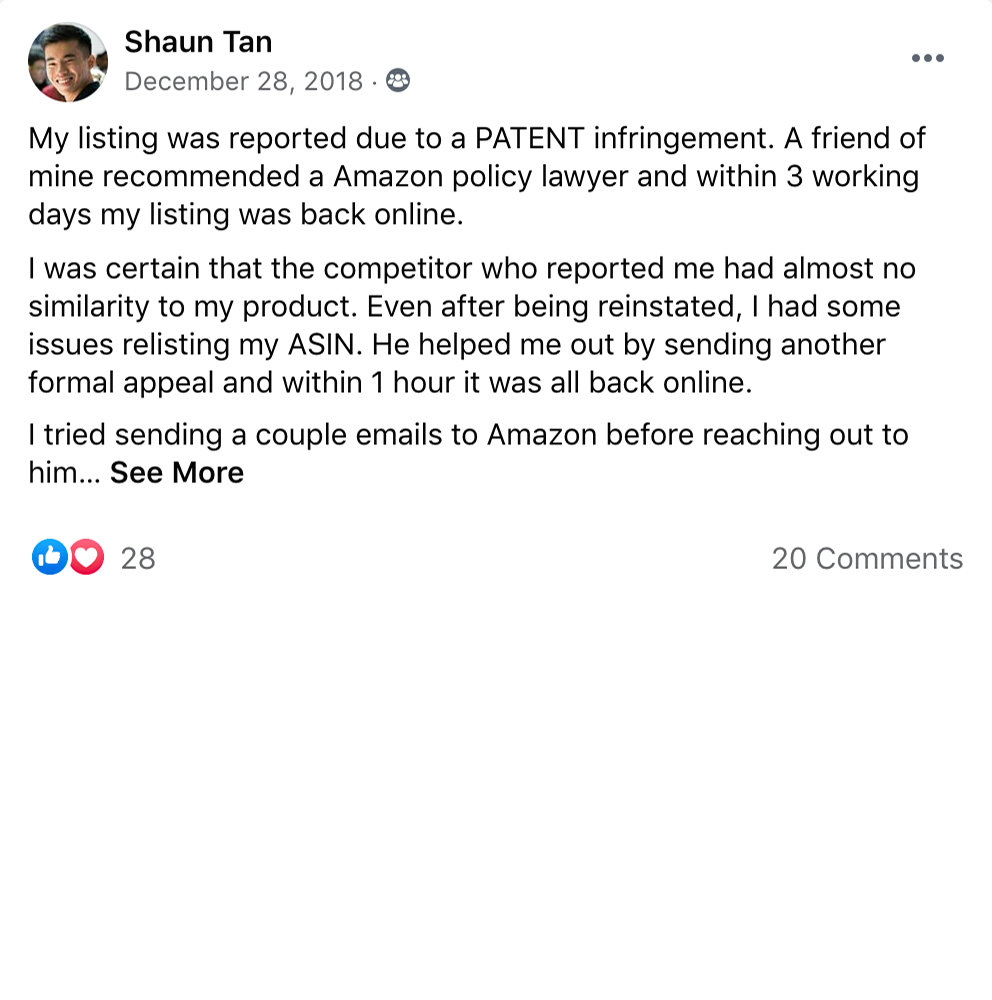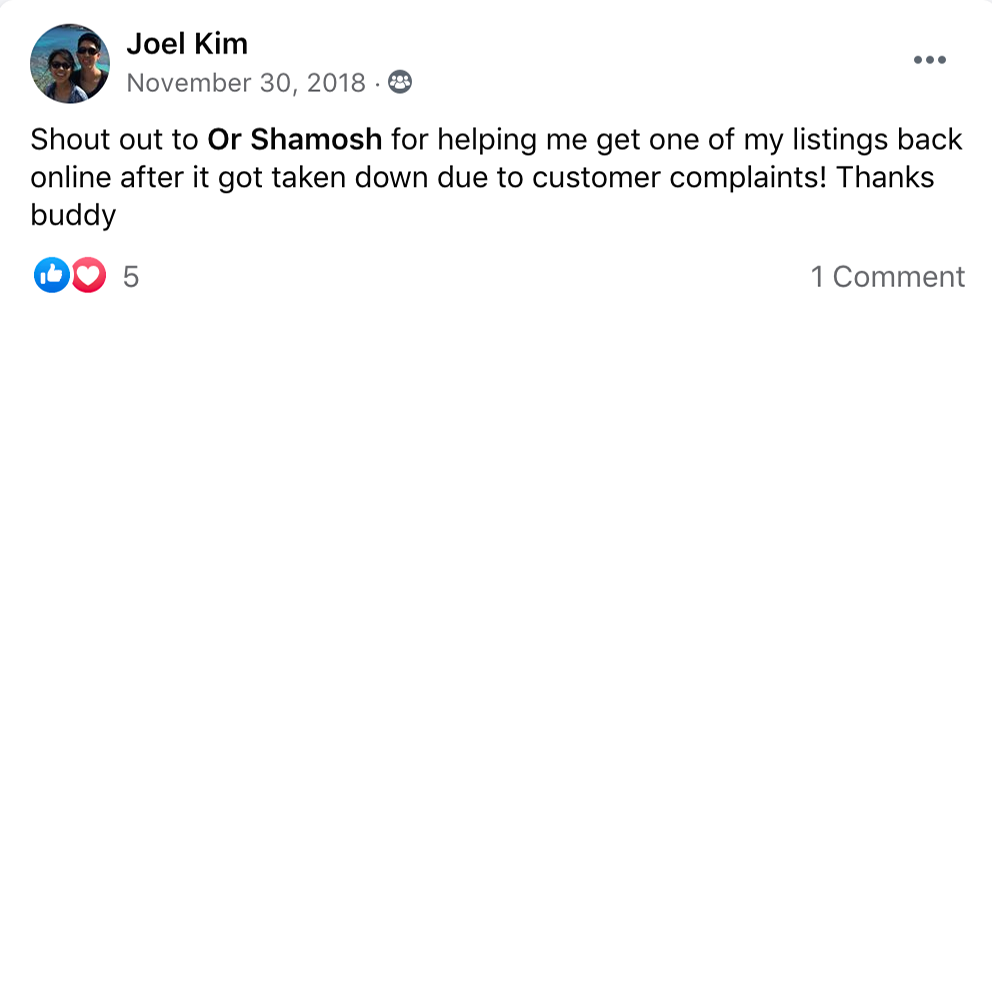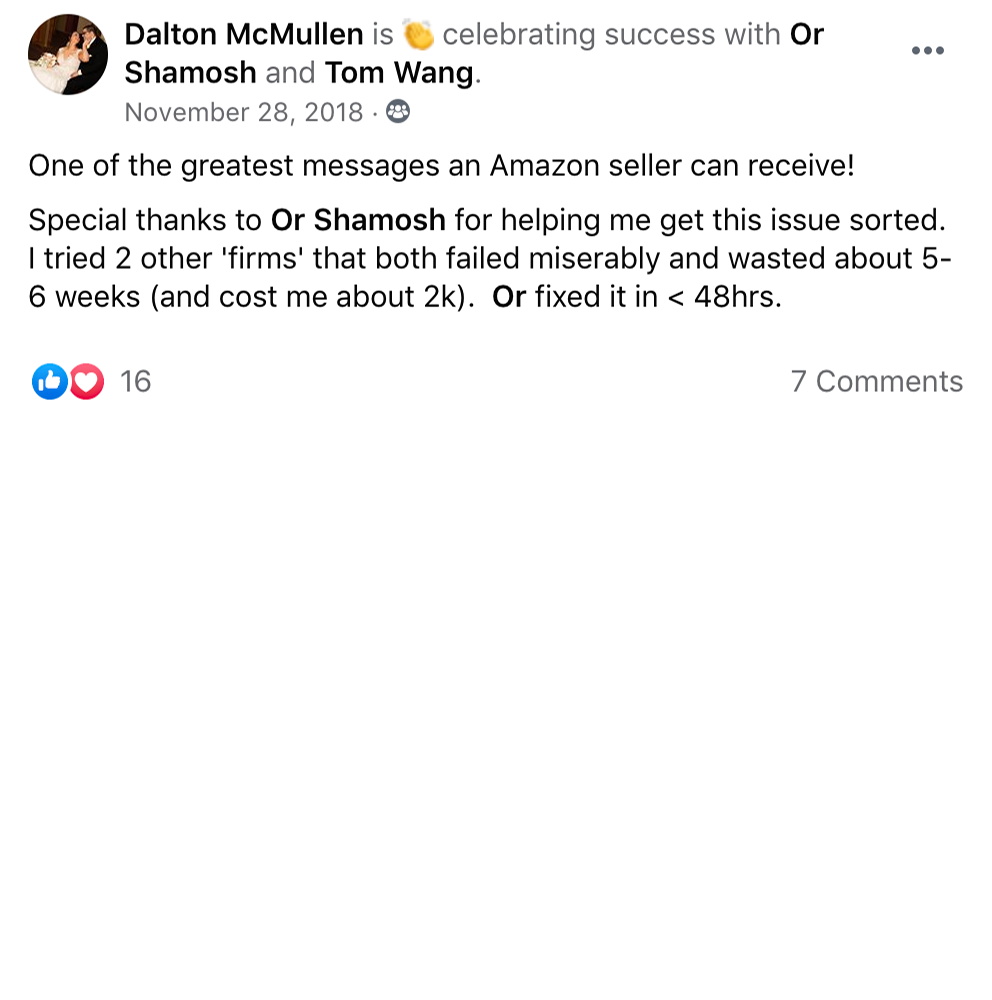 Keep Your Business's Momentum with
Our Expert Reinstatement Services
Get your business back up and running with our streamlined
reinstatement process.
Amazon Seller Account Reinstatement

FAQs:
Looking for effective Amazon seller account reinstatement solutions? You're in the right place! We've helped dozens upon dozens of sellers get their accounts back in excellent standing in record time. 
Feel free to contact us today to learn more about our services and how you can benefit.
SellerAppeal © 2016-2023 Disclaimer: SellerAppeal is in no way affiliated with Amazon or any of its subsidiaries