Amazon
is a
third-party retail platform
. And because of its nature,
it must take measures to prevent such infringements
to
provid
e
its store owners with the
option
to
submit
claims via an online form
.  
Yet not all claims hold legal merit, leading to questions like "H
ow much change is needed to avoid trademark infringement?
" In this blog post, we'll dig into the complexities and offer insights into how to effectively address and prevent trademark infringement complaints.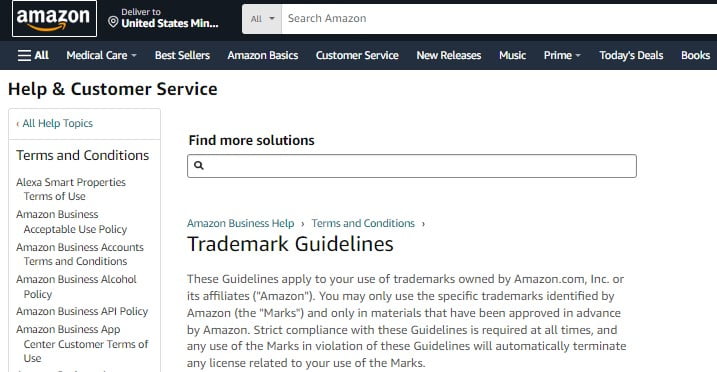 Amazon Trademark Infringement Policy 
Amazon places a strong emphasis on addressing trademark infringement. All sellers must adhere to:
Federal laws 
State laws 
local laws 
along with Amazon's product listing policies.  
The consequences for trademark infringement are clearly outlined by Amazon, including potential
suspension
of selling privileges and legal action. 
Amazon places full responsibility on sellers for authenticity and trademark permissions to underscore the need for sellers to ensure compliance with the law to maintain a reputable standing.
How to Avoid Infringement of Trademark on Amazon 
Preventing trademark infringement
is far simpler than resolving it later.
Protect your account and reputation by adopting these
proactive measures:
1. Steer Clear of Hijacking
Construct unique product pages to avoid hijacking others' listings. Hijacking
or
sell
ing
a
counterfeit version of a product on Amazon listing without authorization
 violates Amazon's rules and risks trademark infringement by neglecting branding and trademark considerations. 
2. Vet Your Suppliers
Source products exclusively from reputable suppliers who provide accurate branding details. Conduct thorough research, read reviews, and gather feedback before establishing business relationships. A reliable supplier ensures you're well-informed about trademark-related matters.
3. Mind Your Language
Be cautious when describing products related to well-known brands. Avoid direct associations like 'Samsung Galaxy Phone Case.' Instead, employ phrases like 'compatible with' or 'suitable for' to steer clear of direct trademark links, mitigating the risk of infringement.
For example, say you are selling a battery replacement for the Lenovo ThinkPad laptops. If your products are branded, the listing's title should be as follows:
[Your Product's Brand Name] + [Product Name] + "for"/"compatible with"/"fits"/"intended for" + [Brand of Main Product] + [Main Product Name] + (other product title elements, if applicable)
And so that'll be:
SellerAppeal (brand) Replacement Battery for Lenovo ThinkPad T530 (model)
And if you are selling generic products as replacements to the branded products:
"Generic" + [Product Name] + "for"/"compatible with"/"fits"/"intended for" + [Brand of Main Product] + [Main Product Name] + (other product title elements, if applicable)
And so that'll be:
Generic Replacement Battery for Lenovo ThinkPad T530
By following these steps, you'll prevent trademark infringement and fortify your position as a responsible and compliant Amazon seller. 
How Do I Tell If a Product is Trademark Protected? 
Identifying whether a product is trademark-protected involves several strategies:  
1. Seller Insights
Assess the market capacity and the number of sellers offering the item. A limited seller count often indicates trademark protection requiring permission to list.
2. Authority Checks
Leverage independent patent search/inquiry sites like the
United States Patent and Trademark Office
for US sellers, European Union Intellectual Property Office for the EU, and the INPI for France. The World Intellectual Property Organization offers comprehensive resources globally.
 3.
Online Tools 
Utilize the Google Patents Search Engine for branded websites or conduct a Search by Image to identify products and their brands.
 4.
Supplier Inquiry 
For verification, directly ask suppliers, distributors, or manufacturers about trademark information when sourcing products. 
By employing these methods, you can
ascertain whether a product is trademark-protected
, ensuring a compliant and successful selling experience.
Common Trademark Infringement Complaints on Amazon 
Trademark infringement complaints on Amazon often stem from: 
Incorrect Sourcing:

Listing trademarked products without proper authorization or agreement from the rights owner. 

 

Inaccurate Product Description:

Offering products that don't match the trademarked item described in the listing. 

 

Unauthorized Product Description:

Using another's trademark to describe your product confusingly, especially by highlighting similarities rather than compatibility. 

 
To avoid such issues
, ensure accurate sourcing, descriptions, and
respect for trademarks
when selling on
Amazon
.
Managing Amazon Intellectual Property and Trademark Complaints 
To handle complaints related to incorrect sourcing or product descriptions, having accurate documentation to support your appeal is crucial. In cases of unauthorized product description, adjustments to your product detail page may be necessary to remove infringing content. Consider these pointers:
1. License Confirmation
If wrongly accused and possess a valid license to use the trademark, communicate with the rights owner to retract the complaint. Upon compliance, the disputed content could be reinstated. 
2. Product Authentication
For complaints about product or packaging trademarks, utilize your Account Health Dashboard to provide proof of authenticity via an Order ID or Invoice. Amazon will re-evaluate and potentially reinstate the content. 
3. Product Detail Page
If the complaint concerns your product detail page, modify the page to eliminate trademark infringement. After making the necessary changes, submit an Amazon appeal through the Account Health page. 
Following these steps enables you to efficiently handle Amazon's intellectual property and trademark complaints, ensuring a journey of compliance and successful selling. 
What Happens When a Seller Infringes Your Trademark? 
When trademark owners identify infringement, they can initiate a civil action in state or federal court. Federal court is often preferred. Successful infringement claims can lead to: 
Injunction:

The defendant must cease using the infringing mark. 

 

Destruction/Forfeiture:

Infringing items may need to be destroyed or surrendered. 

 

Monetary Relief:

Compensation, including profits and the plaintiff's damages, might be awarded. 

 

Attorneys' Fees:

Defendants could be required to cover plaintiffs' legal expenses. 

 
However, a court may rule in favor of the defendant if the infringement isn't proven, if a defense applies, or if other factors impact the trademark owner's entitlement to victory. 
Key Takeaways 
To steer clear of these issues, consider these key takeaways: 
Before listing, diligently research products for potential trademarks or branding conflicts. Vigilance upfront can prevent future complications. 

 

Ensure your product is genuine and doesn't mimic existing brands. Authenticity builds trust with customers and avoids infringement complaints. 

 

Continuously monitor for complaints or claims. Swiftly address concerns by gathering evidence, communicating with the involved parties, and taking appropriate actions. 

 
By adopting these, sellers can protect their businesses and establish a solid presence on Amazon while avoiding the pitfalls of trademark infringement complaints. 
Turn to SellerAppeal's Trademark Solutions Now – Secure Your Amazon Business Today
Navigating trademark infringement on Amazon demands a proactive approach. By researching diligently, ensuring authenticity, and swiftly addressing issues, sellers can safeguard their businesses from potential trademark infringement complaints.  
Don't let your hard work be compromised—act now to secure your Amazon venture. Explore
SellerAppeal
's expert trademark protection solutions and fortify your business against infringement risks. Your success on Amazon starts with a protected foundation. 
Looking for effective Amazon seller account reinstatement solutions? You're in the right place! We've helped dozens upon dozens of sellers get their accounts back in excellent standing in record time. 
Feel free to contact us today to learn more about our services and how you can benefit.